EVA FORMING MACHINE SINGLE STATION
EVA Forming Machine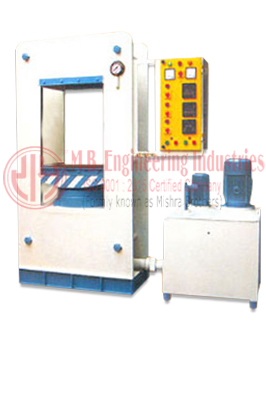 Technical Specification
| Mould Clamping Unit | |
| --- | --- |
| Production Capacity | 80 pairs / hour |
| Station Size | 560 X 760 mm |
| Station Opening | 430 mm each |
| Clamping Force | 150 Ton |
| Clamping Pressure | 120 Bar |
| Hyd Pump Displacement | 120 lpm |
| Motor for Pressure Pump | 5 HP / 960 rpm |
| Motor for Pressure Release | 2 HP / 1440 rpm |
| Electrical Heater | 12 X 1.5 kw |
| Floor Area of Machine | 915 X 2185 X 2185 |
| Weight of Machine | 3500 kg |
| | |
Features
RAM EVALITE - I is designed for making EVA soles for ladies and gents footwear, and extensively used in toy
industry for making Toy Cycle Tyres and other EVA product of different colours and size.
Sturdy design and simplicity in operation.
Machine has vertical clamping hence uses very less space.
Mould Space : It is easy to match with various kind of mould and reduces limitations of mould design.
Temperature controlled by three temprature controllers: Gives perfection in maintaining the melt Temp. with least
variation.
Ergonomically designed and inter changeability.